Regional Meetings of Health Mediators
20.11.2015 zdravenmediator.net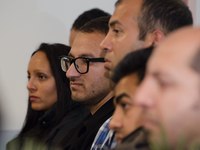 In the end of August 2015 was organized first out of five planned Regional meetings of Association
"
National Network of Health Mediators
"
.
In the Regional meetings the floor was given to the HMs to talk about their work, how they cooperate (or not) with local authorities, the problems of the communities which change through time. On every meeting HMs elected 6 delegates who are going to represent them at the National meeting for Strategic planning that will take place in 2015 and will gather all delegates from all over the country.

The objectives of the Regional meetings are:

-
To strengthen the communication between the HMs on regional level so they could cooperate better when working on concrete cases.

-
To ensure good communication of difficulties, problems and achievements to the Managing team of the Network – different kinds of problems accumulate on local level throughout the year and the National meeting of all HMs that takes place once a year is not enough to discuss and solve all issues.

-
To start a process of strategic planning of the Network.

-
To refine and improve the reporting documentation of HMs.

-
To prepare the implementation of the internal monitoring of the Network, planned to start in the middle of 2016.

The Meetings are part of the project
"
Together for Better Health
"
, funded by pharmaceutical company GlaxoSmithKline and implemented in Bulgaria,Hungary, Romania and Slovakia.

Photos you can see here:
from the Second Meeting in Sozopol
and
from the Fourth Meeting in Plovdiv
.