The Health Mediators in Blagoevgrad Were Visited by UNFPA Deputy Director
30.05.2015 zdravenmediator.net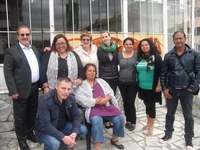 Field-trip was part of Regional Conference "Health and rights promotion, decreasing inequalities. The way to better sexual and reproductive health in Eastern Europe and Central Asia" that took place in the period 27-29 May in Sofia. The Conference gathered representatives from 19 countries in the region. It was organized by Ministry of Foreign Affairs, Ministry of Health and Regional Office of UNFPA for Eastern and Central Europe.
The aim of the Conference was to present the development of reproductive health policies, to mobilize support and investment in this sphere and to exchange experience for achieving sustainable local policies and trans border cooperation in the region.

Special guests of the Conference were Kate Gilmore, UNFPA Deputy Director, Heimo Laakkonen -
Director
of UNFPA's Regional Office for Eastern Europe and Central Asia and the Regional Director of the European Network of the International Planned Parenthood Federation (IPPF) – Vicky Claeys. They drawed attention on the necessity for more efforts in the struggle for equal access to healthcare and also – increasing the quality of the offered services. The participants noted also that today we are witnessing one of the largest migration flows in history. According to them this increases additionally the need to work with different generations and to guarantee access to information and services in the field of sexual and reproductive health and rights.

The high-standing guests shared that for them the most exciting moment from their stay in Bulgaria was the visit organized by Bulgarian Family Planning Association and the National Network of Health Mediators in Blagoevgrad. Led by the two skillful health mediators Katia Kirilova and Antoaneta Eftimova they saw the reality of the Roma neighbourhood without make-up. But they also saw how health mediators do their field work, how difficulties could be overcame with relatively low investment and a lot of dedication; how an approach could be invented to contact each family; how to work with Roma people in the field of reproductive health, contraception, staying in school.